Welcome to
TWO MEN AND A TRUCK

in Jackson, MI
Serving Jackson, MI
When the time has come to select your Jackson, MI, mover, the one to turn to is TWO MEN AND A TRUCK Jackson®. Our trained, professional movers will provide careful, reliable services in an effort to keep up the 96% referral rate that we're able to boast about. We're a local home moving service representing an international brand, so you can be sure that we'll be dedicated to your satisfaction.
TWO MEN AND A TRUCK®'s trained moving specialists do more than just home moving – they can move your business, too.
The Professional Movers
Business moving services range from internal office moves to the relocation of hundreds of employees across Jackson or across the nation. We also offer moving services that include the delivery of specialty items or the rearrangement of furniture.
At TWO MEN AND A TRUCK Jackson, we will effectively plan your move to minimize interruption and let you get back to your schedule. Our services include:
Extensively trained, uniformed, courteous moving pros
Movers are fully licensed, bonded, and insured
Clean, state-of-the-art trucks with proper moving pads and equipment
Free on-site quotes for home moving and packing services
Move orientation with packing and labeling training for employees
Competitively priced moving boxes and packing supplies delivered to your home for your convenience
Experience handling computers, televisions, and other electronic equipment
Benefits
We solemnly declare that our movers obey, at all times, THE GRANDMA RULE®, whereby you are treated with the kind of customer service you would want for your elderly loved one. This constitutes part of our commitment to honest service, transparent pricing, heavy-lifting assistance, and more. As trusted professionals, we understand these important factors while moving:
Free onsite moving quotes for residential moving and packing services.
Clean and fully equipped trucks for protection of all furniture, appliances, and other items during the move.
Onsite move manager provided for the day of the move to answer any questions.
After hours and weekend moves for your convenience.
Ability to provide our certificate of insurance listing you as an additional insured party as requested
When you need a Jackson, MI, mover, select us at TWO MEN AND A TRUCK Jackson for all of your residential moving needs. Call us today for more information or to set up an appointment for an estimate.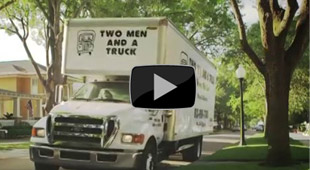 Our Service Area
z z
Albion
Allen
Brooklyn
Camden
Cement City
Clarklake
Concord
Grass Lake
Hanover
Hillsdale
Horton
Hudson
Jackson
Jerome
Jonesville
Litchfield
Michigan Center
Montgomery
Munith
North Adams
Onondaga
Osseo
Parma
Pittsford
Pleasant Lake
Quincy
Reading
Rives Junction
Spring Arbor
Springport
Stockbridge
Waldron